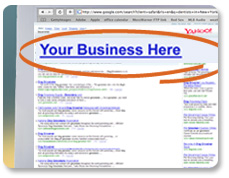 ReachLocal takes the complexity out of local Internet advertising. We put together in one place everything local and regional businesses need to set-up, maintain, track and analyze local Internet advertising campaigns simply, affordably and comprehensively.
Major search engines such as Google®, Yahoo!, and MSN offer one of today's most affordable and effective advertising opportunities. And they are the ideal way to geographically target local consumers. Just look at the facts: There were 6.8 BILLION searches done in June 20061. 43% of search engine users are seeking a local merchant to buy something offline and 54% of search users have substituted Internet/search for the phone book2.

When consumers are looking for products or services from a local business, the chances are good that their search begins or ends on the Internet. So, why don't more businesses advertise where local consumers are looking? Because managing local search advertising campaigns take time and specialized knowledge.
ReachLocal delivers easy-to-use, patent-pending technology and ROI-focused tools to help our clients run successful local Internet advertising campaigns. Our platform ensures that our clients' ads appear alongside only relevant keyword search results which produces leads through major search engines like Google, Yahoo, MSN, Ask.com, and AOL. We work to get ads placed in a high value position to generate the most efficient and qualified click-thrus to the local business's web site. And advertisers only pay when potential customers click on the ad and visit the business's site.
But that's not all ReachLocal can do. When a local consumer clicks on an ad and goes to the Web site, we can track precisely how the consumer explores the site. Clients can see first-hand which products or offers are attracting consumer attention, and whether the Web site is effectively designed to generate leads. ReachLocal can also monitor and track when consumers who have clicked on an ad contact the local business by email or telephone, or print an offer coupon from the site. And we can record prospects calls to your business to ensure telephone inquiries are handled effectively.
Because ReachLocal takes care of all the details, our clients can spend more time satisfying local customers and less time finding them.